Covid19-Service update
Fidelity will remain flexibly operational during this period to provide design and print services in Bedford for those who need them. Please contact as usual for a quote or to order. The print centre will not be open to customers, payment will be taken on the phone and if you want to collect print we will put it in the blue collections bin to the left of our front door. Alternatively we can send print out on delivery whilst couriers are operational or deliver to you locally ourselves.
LOOKING FOR PRINTSPIRATIONAL BRANDING, DESIGN AND PRINT?
Starting a new business? Want to give your brand a boost? Need to get products and services to market fast?

Going beyond ink on paper
Our expertise in branding, design and print marketing has helped hundreds of business owners and marketers, just like you, achieve their goals by delivering a wide range of design and digital print services on time and on budget – all in-house; even with same or next day turnarounds for those last minute jobs.

Get the 'WOW' factor
Give your print that 'wow' factor with great design, alternative papers or media, eye catching foils, finishes, shapes and embellishments to create premium print – then further enhance your print marketing with digital technologies to grab the user's attention and transport them to your digital channels.

We won't let you down!
Think of us as an extension of your own team –   with our creative vision, knowledge of marketing technologies, client-centric focus and in-house graphic design studio and digital printing services we guarantee to deliver a greater return on your marketing investment.
HOW CAN WE HELP YOU?
BRAND it
Are you starting a new business or...
...looking to give your brand a boost this year?
we manage your project from start to finish – all in-house
DESIGN it
Your brand all ways
Want to get projects delivered quickly and efficiently?
We offer a complete one-stop design and print service – all in-house!
PRINT it
We print everything...
...from business cards to banners and beyond
with same day, next day and 3 day print services
BUILD it
Looking for a new business website or...
...a redesign of an older model
we'll get your brand online fast with our professional responsive CMS website packages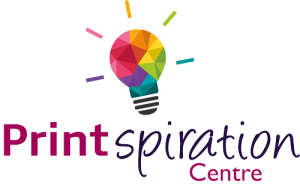 GET SOME PRINTSPIRATION!
Learn How You Can Use Print To Market Your Business With A Free 30 Minute Consultation In Our Printspiration Centre
If you'd like to explore using print in your marketing mix or have a project to discuss please call 01234 907907 to book
FREE BUSINESS GUIDES
We also have a range of FREE BUSINESS GUIDES that you can order online and we'll deliver them to your letterbox in traditional style.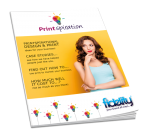 PRINTSPIRATION – OUR MINI MAG
Looking for 'printspirational' design and print? Want to use print to market your business? Read case studies on how we've helped business owners and marketers just like you, find out how to bling your print and how much your marketing project might cost…
Get your FREE copy of our mini mag here.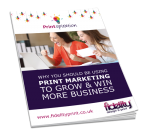 WHY YOU SHOULD BE USING  PRINT MARKETING  TO GROW & WIN  MORE BUSINESS
Print is dead… or so they say! Our quick guide will bring you up to speed on everything you need to know about print and why you should be using it! (Your competitors aren't)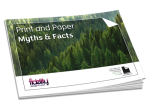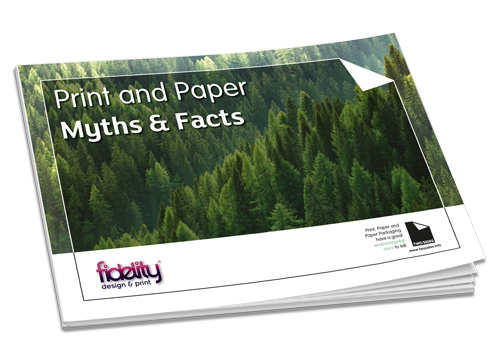 PRINT AND PAPER MYTHS AND FACTS
Print is bad… not as bad as digital it seems!
If you'd like to use print to market your business but you have been brainwashed by the greenwash, help yourself to a copy of this FREE guide and get up to date with the most environmentally friendly marketing channel available.

WHO DO WE WORK WITH?


WHAT DO THEY SAY?
Working in a fast-paced and demanding world of pharmaceutical marketing I need a supplier that will adapt to my needs without a drama; Fidelity fills that need and then some. Nothing is too much trouble or too short notice and their 'can do' attitude give me the confidence to be able to agree to timelines without having to check first. This gives my clients the confidence in me that makes my life easier. The quality and the service are first rate, probably the best digital company I've ever dealt with.
We work in a challenging environment and often need print work turned around extremely quickly. Fidelity never fail to hit our often short deadlines, and provide an efficient and dedicated service. They are always able to help with even the most peculiar queries we may come up with and I look forward to working with them more in the future.
We have always been incredibly happy with the quality of print, manner of service and quick turnaround of my orders placed. The staff at Fidelity have been very flexible and eager to help with any and all printing needs, and I would recommend them to anyone.
Thank you for all the work you have undertaken for us this year – the quick turn arounds and excellent quality makes such a difference to our business.
We have been using Fidelity print as a key supplier for over five years. In our experience, they always provide an excellent service from start to finish.Competively priced, with a quick turnaround on quotes and delivery, any jobs we request are always delivered to the customer on time and produced to an excellent standard. They have the ability to produce and deliver a request in a matter of hours if needed. Nothing is too much trouble. The team is always friendly and helpful. We would have no hesitation in recommending them to other similar organisations.
Fidelity have produced a number of training materials for us including work books, posters, laminated cards, folders and stickers – often at short notice.  They have been highly responsive and shown great care in the work they have produced.  We have been very happy with the results.  Thank you Fidelity!
As a growing business whose product is very much centred around marketing we require a high standard of finish with reliability for the time scales set. Having worked with several print companies over our 17 years in business I can honestly state that the quality of work, service and delivery of the finished article are second to none.
Furthermore you receive advice and support with each individual project
that you involve them with. It is because of this that Fidelity Print have been selected as our primary supplier of digital print solutions.
Fidelity Print has always provided a fast and efficient service. They have helped us produce professional publicity materials including the design, printing and delivery of our posters and Annual Report.
Simon and his team are understanding and flexible to our needs and time-frame and always communicate in a professional, approachable and friendly manner.
Since I started working for Leica Geosystems in 2004, I have used Fidelity and found their service to be incredibly good. The service they offer is second to none, with a quick turnaround on projects when given short notice for artwork and printing. I would recommend the team at Fidelity to anyone as they provide an excellent service.
We've been using Fidelity for over 10 years for design and print projects. They have consistently provided a great service, with projects delivered on time and to budget. I would definitely recommend them.
Firstly, I wanted to thank you for doing such a fab job on all the PV gear! It looked fantastic! So much so that —– (who I nabbed as my driver) is definitely going to be using you as well!
Simon, I'm so grateful that you went the extra mile and stayed late on Monday to get he board and cards done!
The event went without a hitch, and was a huge success! Lots of very relieved people at CBC today!
I would like to personally pass on my thanks for all your hard work with the invitations, envelopes and name badges, especially would like to thank you for ensuring any last minutes changes were done without any complaint and fuss – truly professional.
Many thanks for all your hard work and we're very pleased with the result. We've had a lot of positive feedback from authors and readers already.
Fidelity is great one stop shop for leaflets, presentations and display materials on paper and materials. Fidelity have been a valuable partner to our business
Thank you for all the efforts to get our marketing materials of Ampthill Rugby Club up to a very high standard. Your complete re-design of our image and brand along with updating our match day programmes and posters have been excellent. Your speedy print delivery is also faultless, particularly with the tight deadlines we get you to work with.
You may also like to know that we have highly recommended your business to other local organisations.
I have always found Fidelity a pleasure to work with – their quotes are always very competitive, they are extremely thorough checking artwork and they can turn around a job in super fast time without any affect on quality.
We have used Fidelity Design and Print for over 7 years now for most of our advertising and printing requirements including the Christmas Card scheme they offer to schools. Each year Fidelity have provided us with clear instructions on how the children need to format their Christmas Cards which they are making so that parents can buy packs with their child's own design, name and chosen greeting. We ensure each painting and order form are married together in time for a designated date for collection by Fidelity. The cards have always been ready in good time for Christmas for parents to send out and the quality of material that Fidelity utilise is always of a high standard.
Fidelity have been a great help with the growing of our successful Preschool, printing posters, business cards etc for us. A very professional and above all helpful service with fantastic results. We also participate in their Christmas Card printing service. To see our children's artwork beautifully presented as cards is great and is a good fundraising project for us.

[/fusion_testimonial name="Marketing Manager" avatar="none" image="" image_border_radius="" company="English Heritage" link="" target="_self"]

We work in a challenging environment and often need print work turned around extremely quickly. Fidelity never fail to hit our often short deadlines, and provide an efficient and dedicated service.
They are always able to help with even the most peculiar queries we may come up with and I look forward to working with them more in the future.

HAVE YOU READ OUR 5 STAR REVIEWS?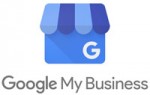 WHO ARE WE?
Fidelity Design & Print are a specialist designer and digital printers in Bedford, Bedfordshire. We have over 20 years experience of providing branding and design, print services, premium print and print marketing solutions to business owners and marketers, just like you, in Milton Keynes, Luton, Bedford and all across the UK.
 Whether you are starting a new business, looking for great ideas to market new products and services or need a reliable print partner to deliver complex print on demand – we're have the experience to find and deliver the right brand, design & print solution for you.
You can see from our great testimonials and reviews that our customers just love working with us – we never, ever, let anyone down. We have ISO9001:2015 certification to ensure our services are delivered reliably and to exacting standards to ensure customer expectations are always surpassed.
Looking for a great business partner who will do more than just put ink on paper for you? Give us a try!