GDPR AND EPRIVACY –
HOW IT WILL CHANGE YOUR BUSINESS MARKETING?
The law is changing in May 2018 and ePrivacy is not far behind!
Whether you market to businesses or consumers, it still requires you take action to ensure you are compliant in storing and using customer data or you risk a heavy penalty of up to €10 million, or 2% annual global turnover – whichever is higher.
The new legislation requires you to look at the data you hold, how long you hold it for, for what purpose, the lawful reason for processing it and collect and store consent.
As a data processor we work with you, the data controller, to help you understand what you must do in order to legally market to your existing customers and how you can do so…
HOW CAN WE HELP?
FREE data audits for B2C lists

Source GDPR compliant data

GDPR compliant email marketing software

GDPR compliant re consenting campaigns
GDPR compliant omni-channel marketing campaigns

One central data processor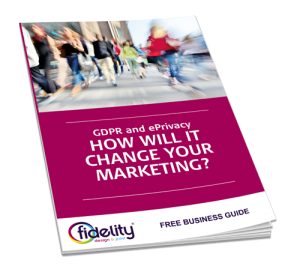 FREE GUIDE
GDPR & ePrivacy – HOW WILL IT CHANGE YOUR MARKETING?