5 top tips to save time on your wedding planning with personalised wedding invitations
Our first three top tips to save time on your wedding planning are Personalise, Personalise, and Personalise!
1. Personalised wedding invitations
Personalising your wedding invitations will save you lots of time hand writing them. If we know you want to personalise wedding invitations, we can use a font that looks like natural handwriting or calligraphy during the design process. All you have to do is provide a spreadsheet, listing your guest's names, ready for us to go to print.
.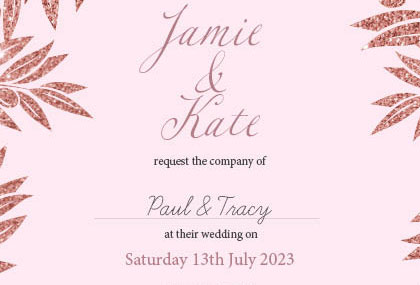 2. Personalised wedding envelopes
Remember that spreadsheet? Just add the addresses of your guests in the following columns and we can print it direct to envelopes or labels. All you have to do is match and insert named invitations to the corresponding envelopes and pop them in the post.

3. Personalise your place settings
You can also use a simple spreadsheet to personalise place names to include meal choices and allergy information to help staff serving food at your wedding. Create columns headed 'starter' or 'allergy', fill out for guests needs and we'll merge that data and create personalized name place settings for your big day.

4. Order your thank you cards before going on honeymoon.
Get ahead whilst you're already in the wedding zone. Thank You cards can be preprinted or left blank for your own personal message. Don't forget tips 1 and 2 above for saving time!
5. Use one supplier
Biggest tip for saving time (and money) is to use one central supplier. You may think it's easier to get your wedding invitation design at Etsy and then do something different for the following parts of your wedding stages like order of service and menus etc, but starting your wedding stationery suite with us right at the beginning will keep the process simple, and save you time and money right from the outset. We can also offer those extra time saving options such as personalised wedding stationery!
Looking for wedding stationery in Bedford? Check out our products over at Fidelity Weddings