PRINT AND THE ENVIRONMENT
Environmental awareness is an essential part of our business strategy, we:
Stock only PEFC/FSC papers sourced from sustainable forests
Provide recycled papers and eco-friendly laminates as alternatives
Provide safe, recoverable and recyclable alternatives to PVC and laminate materials:

PET plasticized paper for longevity (same as plastic bottles/fleeces)
Polypropylene is a reusable/100% recyclable product used for weather resistant outdoor environments.
HDPE for banners
Fabrics

Recycle all paper and board waste via a specialist waste recycling company.
Strive to find alternatives to non-recyclable products where applicable.
Educate and support customers to improve their own environmental credentials.
Actively look to reduce waste by using recyclable packaging.
Invest in low energy machinery, most of which can be recycled at the end of its life.
Have low energy lighting that deactivates when not in use.
Personally recycle food and packaging waste we bring to work.
Offset carbon produced in the production and transport of our paper through The Woodland Carbon scheme (see below)
Member of the Two Sides Initiative (see below)
MEMBERS OF THE WOODLAND TRUST CARBON WOODLAND SCHEME
The more you print, the more we plant!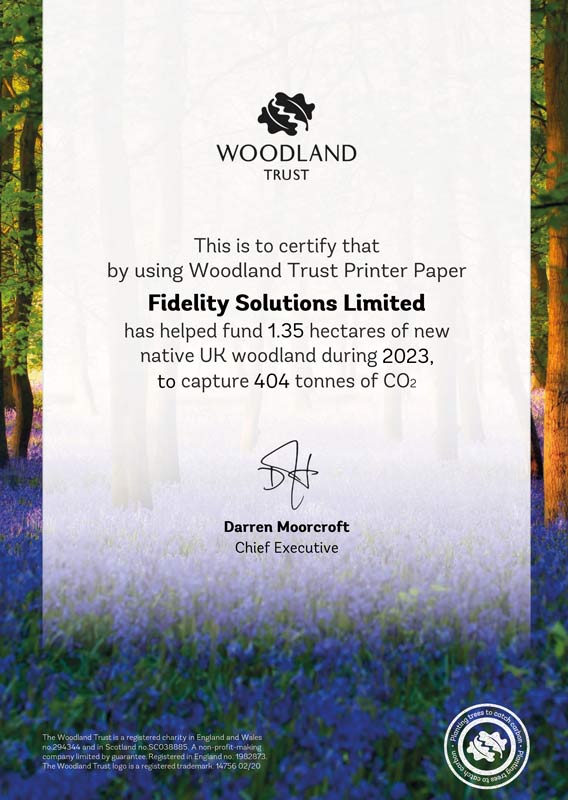 Woodland Carbon is a unique scheme to help companies reduce their carbon footprint by locking up carbon emissions through planting trees. We work with The Woodland Trust to create new woodland and harness nature's simple and powerful way of removing carbon dioxide from the environment.
How does it work?
The amount of CO2 generated in the manufacture and distribution of our paper is calculated by our paper supplier and our donation is paid to The Woodland Trust to plant native British trees right here in the UK.
What does it mean to you?
You may use a specially developed Woodland Trust logo on all print jobs where the CO2 has been captured from our paper purchases (99% of our stock is carbon capture qualifying). Using the Woodland Carbon logo enhances your brand and reinforces your own environmental commitment.
When ordering print work where you wish to use the logo you will need to leave a clear area on your artwork for us to add the logo to your PDF before print. If we are designing your materials for you just let us know when placing your order.
Our